Our favorite movies and TV shows have been shaping our sense of style for over a century now, and there's nothing that can beat a great look on the silver screen. Over the years, both TV and cinema have conjured some unmistakable styles and inspired brand new fashion trends single-handedly. 
Although it can be a daunting task to pick out a collection of the most iconic eyewear that we've seen throughout the world of TV and film, it's certainly worth looking deeper into 10 styles that have had the biggest impact and largest influence over viewers. 
With this in mind, let's explore the 10 most famous glasses in TV and film:
Breakfast at Tiffany's (1961)
In arguably the epitome of 60s chic, the opening shots of the 1961 film Breakfast at Tiffany's are unmistakable. Holly Golightly, played by Audrey Hepburn, walks the streets of New York in a pair of striking thick-framed sunglasses before stopping to peer into the window of Tiffany's. 
The glasses themselves are designed by Oliver Goldsmith, and have become a timeless classic in the world of fashion. Impressively, the eyewear is still available to buy from Goldsmith.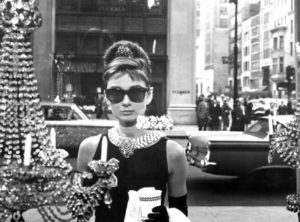 Top Gun (1986)
If there was ever a film that single-handedly made a style of sunglasses more fashionable, it has to be Top Gun.
The aviators adorned by lead character, Maverick, played by Tom Cruise, have become a timeless vestige of coolness with a wide array of fans today–including US President Joe Biden.
In the movie, the iconic shades were a pair of Ray-Bans. The reason for this is that the company were the very first to produce aviators back in the 1930s as a means of helping pilots to keep their eyes protected from the glare of the sun.
The recent return of Top Gun: Maverick only contributed to cementing the aviators as a cinematic classic, and there are no signs of the fashion trend crash landing any time soon.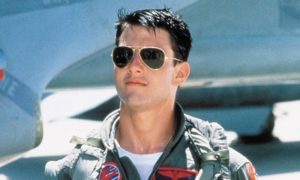 The Matrix (1999)
The craze for Matrix glasses never seems to want to fade away. Even after repeatedly failing to live up to the box office smash hit of The Matrix in the quadrilogy's follow-ups, the demand for everything Matrix is continually infiltrating fashion.
Along with striking black frames and unconventional shapes, the art of Matrix fashion dictates that black and leather are the classic cool look. For the film's far-reaching cult following, the kung-fu moves featured throughout the motion picture may be a stretch too far, but the fashion within the movie is highly accessible.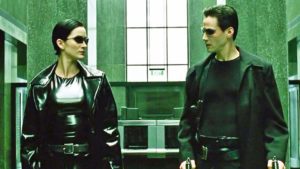 Lolita (1962)
Unsurprisingly, the 1960s reemerge as a key decade for fashion, and in this case, it's the eyewear worn by Sue Lyon as the lead character, Lolita, in the Stanley Kubrick comedy of the same name.
Starring in a bold pair of brightly colored heart-shaped glasses, Lolita casts a striking impression in a movie that's only become more popular throughout the ages.

Superman (1978 – )
Although superheroes aren't usually known for their eyewear, it's fair to say that Clark Kent wasn't a traditional superhero when hiding his alter ego, Superman, from the world.
Playing a mild-mannered reporter, Clark Kent can often be found throughout the Superman cinematic history wearing thick black frames as a means of ensuring that his true identity isn't discovered.
We've seen these iconic thick black frames throughout the eyewear industry and today perhaps the most effective to order online would be Burberry's range of understated retro-inspired glasses.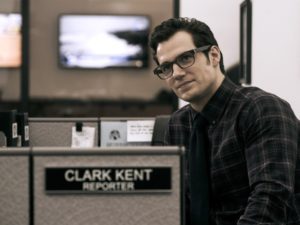 How to Marry a Millionaire (1953)
No list of famous TV and film styles could possibly be complete without Marilyn Monroe, and her eyewear in the 1953 romantic comedy, How to Marry a Millionaire shows off a golden age of style.
Monroe plays Pola Debevoise, who wears a pair of glitzy cat eye style glasses as a key wardrobe accompaniment to help win over a wealthy partner.
The cat eye style of eyewear has rarely left the inner circles of womens fashion, and style icons like Marilyn Monroe can certainly be thanked for their role in making the choice of frames a leading wardrobe choice.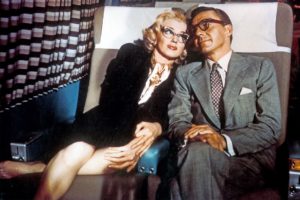 The Blues Brothers (1980)
The Blues Brothers had the privilege of combining blues music with a look that oozes coolness. Brothers Jake and Elwood Blues, played by John Belushi and Dan Ackroyd, opted to complete their look using unmistakable Ray-Ban Wayfarers.
As some of the most popular forms of eyewear in the decades that followed The Blues Brothers' 1980 release, it's fair to say that the Wayfarer is still performing admirably well off the back of the work of some of the film industry's most famous brothers.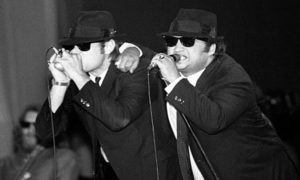 Harry Potter (2001-2011)
Okay, so the look hasn't quite caught on in the world of fashion, but it's fair to say that Harry Potter, played by Daniel Radcliffe, has the most famous pair of glasses in 21st Century cinema.
The circular lenses may have been popularized by the likes of John Lennon in The Beatles some decades earlier, but today we far more readily associate rounded glasses with the world's most famous wizard.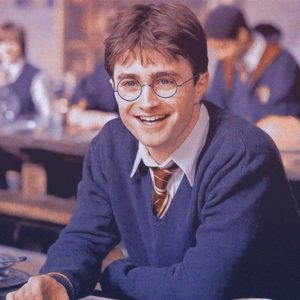 Fear and Loathing in Las Vegas (1998)
While it's unclear whether his attorney advised him to wear these eye-catching Ray-Ban RB 3138 Shooter Aviator sunglasses with yellow tinted lenses or not, Hunter S Thompson, played by Johnny Depp, inspired one of the most colorful cult looks in cinema with his role in Fear and Loathing in Las Vegas.
Inspired by the renowned gonzo journalist's semi-autobiographical account of a drug-addled few weeks in 1971.
Interestingly, the lenses themselves were picked for the real Hunter S Thompson in the movie by Terry Gilliam, of Monty Python fame.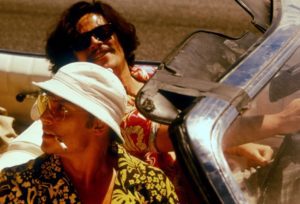 Taxi Driver (1976)
Yep, it's another appearance for Aviator glasses, and this time as a tool in casting a strong anti-hero style adopted by Travis Bickle, played by Robert de Niro, in the Martin Scorsese film, Taxi Driver.
Unlike our more traditional perception of the Aviator sunglasses, Bickle wears smaller lenses that aren't too dissimilar in style to Ray-Ban's Blaze Generals.
Whether you're a hero or anti-hero, some of the styles that have graced the silver screen over the decades have carried a profound influence on the fashion that followed.
While Ray-Bans and Aviators have been among the leading brands and styles that have dominated Hollywood over the years, there's been plenty of room for less conventional styles to emerge to become cult favorites over time.
It's certainly going to be interesting to see the future of films create brand new looks that are replicated by fans over years to come.