Williams-Sonoma has come out with a line of affordable kitchen appliances
When it comes to kitchen appliances in your dorm room or first apartment, they tend to look like something picked out of a Good Will. Appliances can be expensive and the phrase "you get what you pay for", often applies when you opt for cheap appliances that fall apart when you get them. There is no way college students could afford top of the line appliances like Williams-Sonoma brand kitchen appliances…or could they? Let's just say you will definitely want to get the grads in your life these appliances.
Delicious frozen treats
Williams-Sonoma has released a line of affordable kitchen appliances called Open Kitchen. Our staff received a few of the appliances and they are in love! The first affordable appliance our staff tried was the ice cream maker. Let me tell you, once you have had homemade ice cream, Ben & Jerry's just won't cut it anymore. Made out of stainless steel, the ice cream maker comes with a freezer bowl that churns to properly make yourself any frozen treat you desire.
With a simple on/off knob, all you have to do is put the ingredients together you desire and in about 30 minutes, you will have your very own homemade ice cream. What I really liked about the Open Kitchen ice cream maker was the fact that it wasn't too loud and is very easy to clean due to the flawless stainless-steel build. The 2 qt ice cream maker comes in at an affordable $79.95.
Nice and Toasty
The next thing we tried out was the 2-slice toaster. Also made out of stainless steel, the toaster looks nice and sleek and doesn't take up much space, which would be perfect for a dorm or a small studio apartment. Featuring a large range of temperature settings, the toaster also has a button for bagels and a cancel button. It may seem like a small feature, but the cancel button is really appreciated, because with previous toasters I would have to unplug it completely to cancel. The Open Kitchen 2-slice toaster comes in at an affordable $34.95.
Perfect Tea
The next appliance we tried was the electric teakettle. The electric teakettle is completely customizable and programmable, which is perfect for brewing the perfect temperature of hot water to make you a comforting cup of tea or hot water to make a quick pack of instant noodles. Previously my teakettle made that obnoxious whistling noise, which is not ideal for a dorm space or any shared living space. The Open Kitchen programmable electric teakettle is priced at $79.95.
The Smoothest Smoothie
Finally, just in time for summer we tried the Open Kitchen personal blender. This was probably the best product we tried as far as durability and design for the price. Similar to the Magic Bullet, the Open Kitchen personal blender blends by turning the loading cup upside down and turning it slightly so it blends. I was really surprised by how strong the blades were. They appeared dull to the touch, but it was probably the quickest and smoothest smoothie I have ever head. It also took roughly 20 seconds to blend everything and costs just a mere $69.95.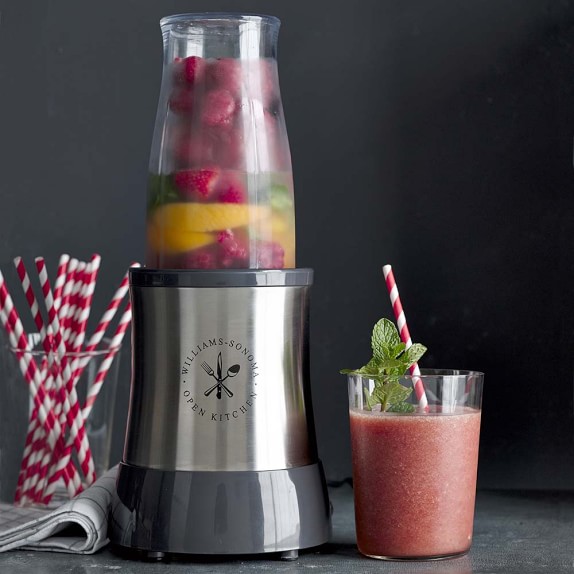 If you are looking for gifts to give the graduate in your life then these amazing stainless steel appliances are exactly what you are looking for.