College life can provide a great many students with the opportunity to experience true freedom, but this can be a little difficult without having the right car that's safe, efficient, and won't break the bank to drive. 
While there are plenty of cars out there, finding the right one to suit the needs of college students can be tricky. This is because college life can be tricky to budget, and a little chaotic to say the least. 
Although no two students have the same wants and needs when it comes to cars, factors like value for money and durability are likely to rank high when guiding students through their college years. With this in mind, let's have a look at seven motors that can fit the bill for the tricky test of college life: 
Chevrolet Spark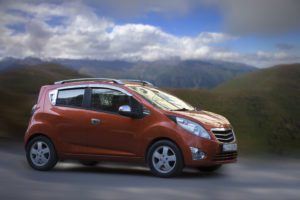 The Chevrolet Spark is one of the cheapest options available on our list and offers excellent fuel economy for students, making those trips to the pump less frequent. With 30 miles-per-gallon in city environments and 38mpg on the freeway, you'll be able to get from A to B throughout semesters without having to constantly spend big. 
While the car has a strong four-cylinder engine, the 98 horsepower on show can be a little restrictive if you're looking to take regular long journeys home between semesters.
Toyota Prius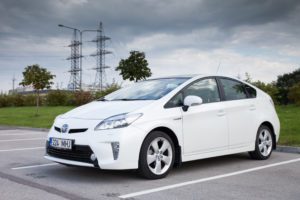 The Toyota Prius will top a great many lists when it comes to cost-efficient driving. The hybrid motor has delivered a fuel economy of 48mpg, making it extremely cheap to drive.
Furthermore, the model has been named as a Top Safety Pick from IIHS for both 2012 and 2013, and a TSP+ for 2014-2015.
With more recent Prius models offering safety features like pre-collision systems and lane-keeping assists, it's unlikely that you'll find a safer and cheaper-to-run motor. However, the costs of buying a Prius can be relatively steep in comparison to some of the cheaper cars listed.
Honda CR-V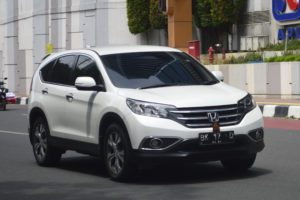 Depending on your studies, sometimes it's worth investing in an SUV to haul larger objects like musical instruments or sports equipment into college. If you're looking for a larger car to do the trick, the Honda CR-V could be the perfect low-cost option to fit the bill. 
The car also has useful features like all-wheel drive should conditions become slippery, and lane-departure warnings to help keep you in control of your vehicle at all times. 
Mazda3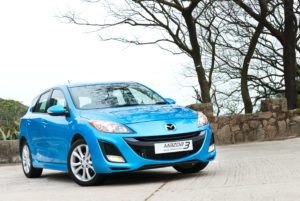 The Mazda3 is a beautiful motor that can be bought used for a fair price. The car itself can be very versatile, and comes in both sedan or hatchback models, with the latter offering a great compact option for students. 
For the right price, the Mazda3 can be a great sporty option for college students, and the car comes with a six-speed manual transmission for stick drivers. 
The car also features a smart key fob that provides handy keyless entry to the car, which can be great when rushing with luggage between classes. Don't worry if your key ever gets lost amidst the chaos of student life, replacing your car key can be easy with auto locksmiths on-hand to reprogram smart keys. 
Toyota Corolla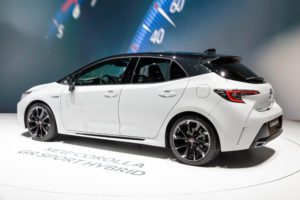 There aren't many cars that have exerted the staying power of the Toyota Corolla. With a history that's spanned more than 50 years, students can embrace decades of engineering quality when choosing this car. 
Taking the form of a subcompact car that offers both sedan and hatchback versions, the Corolla's more recent editions boast safety features like pre-collision deterrence, automatic high beams, and lane departure alerts. 
While newer Toyota Corollas can extend to the higher reaches of student budgets, there are many great older versions that can perform admirably when it comes to getting students safely from A to B throughout their semesters. 
KIA Soul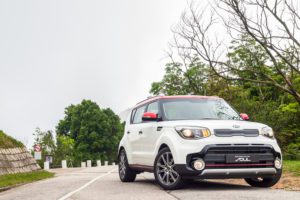 No matter what your taste is in cars, there's no doubt that the KIA Soul is striking in appearance. Box-like in appearance, the Soul will certainly help you to stand out from the crowd on campus. 
Due to its unusual shape, the Soul offers a healthy level of storage space despite its small appearance. The motor overall is a strong budget option for students, though its possible lack of aerodynamics might be a contributing factor to its weaker gas mileage, which doesn't measure up as well as some of the other options on this list. 
Honda Fit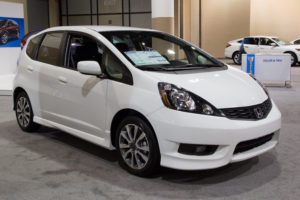 To conclude our list, we have another Japanese option for student drivers. Although Honda stopped selling the Fit hatchback in recent years in the US, it's still proving to be a popular motor for student drivers. 
The car features strong safety ratings and plenty of efficiency for drivers, and its 33mpg city and 40mpg highway fuel consumption is credible in comparison to other options on this list. 
Honda's Fit model also packs a relative punch, with a 130-horsepower engine that outstrips some of the other small hatchback options available on the market. 
Although student life can be difficult to navigate at the best of times, finding the right car that's dependable and cost-effective can be a great way of getting the most out of your experience at college. 
When searching for the right car, always draw up your expected budgets and draw comparisons between the initial cost and fuel consumption costs that can be associated with your purchase. In finding the right vehicle to suit your budget, getting from A to B will have never felt so easy. 
SEE ALSO: Packing For College: Essential Move-In Tips & Tricks