President Donald Trump has been cleared of all charges in his impeachment trial.
In a historic vote that took place yesterday, the Senate voted to acquit the President, ending a congressional bid to remove him from office. The Senate voted 52-48 on charges of abuse of power and 53-47 on obstruction of Congress.
The President was initially charged in December after allegations that he had pressuring Ukraine into investigating political rival Joe Biden by withholding $391m reserved for security aid. Trump was then charged by obstructing congress in investigating the issue.
This was only the third presidential trial in American history. Trump, who is seeking a second term in the 2020 November election, is the first president to be impeached in his first term and then have the opportunity to seek reelection.
The President always denied any wrong-doing.
After the trial, his re-election campaign said in a statement: "President Trump has been totally vindicated and it's now time to get back to the business of the American people. The do-nothing Democrats know they can't beat him, so they had to impeach him.
"This impeachment hoax will go down as the worst miscalculation in American political history."
See Also: Trump's Impeachment: A Simple Guide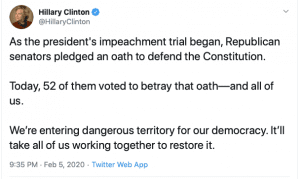 How did the vote play out?
The impeachment trial took place yesterday.
Mitt Romney was the only Republican to convict Trump on the first charge of abuse of power.
Some other Republican senators criticised Trump's behavior however did not think it rose to the level of being removed from office
A two-thirds majority vote was needed in order to remove Trump from office, which was always an unlikely outcome.
The Democrats expressed concern that clearance of the Presidents charges would embolden Trump's questionable behaviour.
The President will be making a statement on his victory at noon on Thursday.