The zero-waste movement is about eliminating all waste from your life, including cutting down on packaging, composting and recycling. If you search the #zerowaste and #zerowasteliving tags on Instagram, you'll find yourself in the world of DIY beauty products, glass containers, non-toxic cleaning products and re-useable straws.
Zero waste aligns quite nicely with other millennial trends, like minimalist design and socially conscious consuming. But it isn't only in the realm of influencers, it's a movement whose practitioners share the serious goal of sending as little to landfill as possible.
For those who are trying to live a zero-waste life, avoiding plastic packaging, disposable coffee cups and paper towels is common place. They are experts in reusing and recycling, composting and DIY-ing. Many say it is their goal to accumulate about one-quart of trash over the span of an entire year.
Remaining conscious of our consumerist habits is a good thing, we stand behind that statement with certainty. But in looking at the faces leading the movement to save mother earth—it strikes us that most are women, which begs the question: why are eco-initiatives so feminized?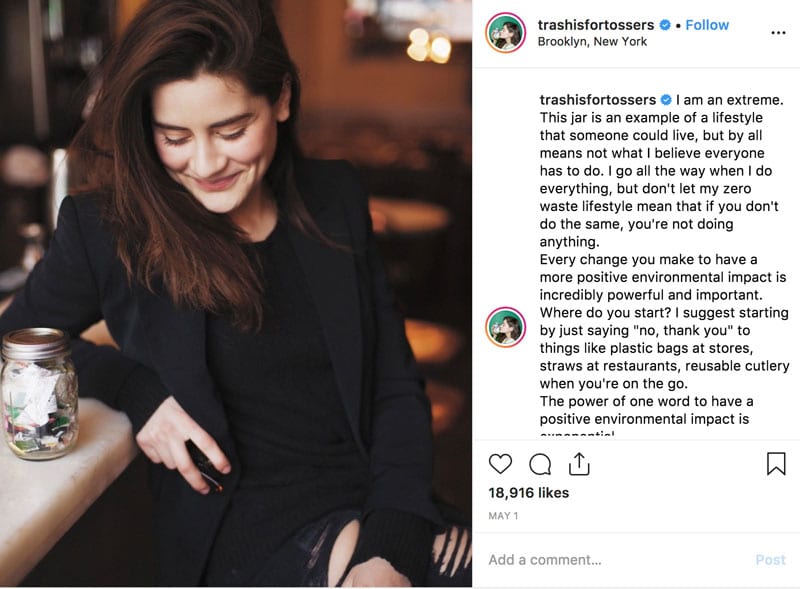 Across the board, when it comes to taking initiatives to make our personal lives greener, women are leading the charge. "A vexing question," asked The Guardian recently, "Why do men recycle less than women?"
Zero-waste and wives
For married women who are already doing the grocery shopping and household cleaning, bringing zero-waste habits into practice seemed like a logical leap. Many wives and mothers have found that—even if the goal of living a more environmentally conscious life was a shared one—the day-to-day work of actually figuring out how to live that way fall to them.
Zero waste, it seems, falls under the umbrella of "second-shift" work—a term used to describe the cleaning and childcare work women do after coming home from their full-time job. Work, researchers have found, that is not equally shared. In fact, married mothers shoulder so much second-shift work, that a recent study has found that they spend more time on housework than single moms. (A good graphic was created by the French artist Emma that easily explains household-work inequalities.)
The pattern of enthusiastic zero-waste woman and her long-suffering male partner is uncomfortably common, reported Vox, once you know to ask about it. It's essentially another layer to "having it all": a career, a family, a picture-perfect life that's now holding itself to even-greater idealistic standards.
The problem with coding behaviors as feminine
While the work of going zero waste falls into the category of responsibilities usually handled by women, this lifestyle faces another gender hurdle: eco-friendly choices are often coded as feminine behaviour.
Take, for example, a responsible zero waster who will carry around reusable utensils, a reusable straw, a mason jar, a water bottle or reusable mug (or both!), a cloth handkerchief and a metal or glass container for snacks or leftovers. Women are used to having a purse or tote of stuff with them—and what's a few more, if it saves the planet? But a "phone-keys-wallet" guy is unlikely to hop on board with suddenly quintupling his daily essentials.
Zero waste comes with an added component of emotional labor too. Adherents spend their days politely refusing straws, declining gifts from family members and gently explaining their lifestyle in a non-judgemental way to strangers.
Emotional labor is a zeitgeisty, feminist word that describes the invisible, extra steps women do to make their way through the world every day. Already living with its weight on their shoulders, it can feel like less of a reach for women to commit to not-always-comfortable explanations of their habits to prying friends and colleagues; for men, who it is generally agreed, do less of this work, taking on this aspect of zero waste can feel like a steeper mountain to climb.
Do your very best, but…
Saving the planet is often talked about as an individual aim. You need to use fewer plastic bags. You need to ride your bike instead of driving your car. You need to re-think your life so that after one year, your total garbage output fits into a mason jar.
And while habits of individual have had an impact on business practices (following consumer practices, Trader Joe's announced it would be decreasing its plastic use, among other examples), the current environmental crisis is not going to be solved by bringing your own coffee cup.
In the last decade, the fossil fuel industry has poured $180 billion into new plastics manufacturing facilities, and experts say global plastic production will jump by 40 percent as a result.
And for all the women who are running earth-happy homes? They're not represented in positions of leadership that have influence on keeping plastic out of the oceans. According to a 2017 analysis, the global oil and gas industry has fewer women in leadership positions than in other industries and given that only 5 percent of Fortune 500 CEOs are women that's already a low bar.
But perhaps this explains why women focus on their family's waste. Locked out of the rooms where the most impactful decisions are being made but terrified for their children's future, they obsess over the plastic output that is within their domain.
See also: Five Books About Climate Change You Need to Read Now